Try the easy Barfi recipe with milk powder barfi which will just melt in your mouth. If you have guests coming over this festival season, try this milk powder burfi recipe with step by step. This Indian sweet dish will be ready in just an hour using simple kitchen ingredients such as milk powder, condensed milk, ghee and cardamom powder. The delicious barfi is also known as 'Khoya Barfi' in some parts of India. Try this yummy barfi today and impress your guests!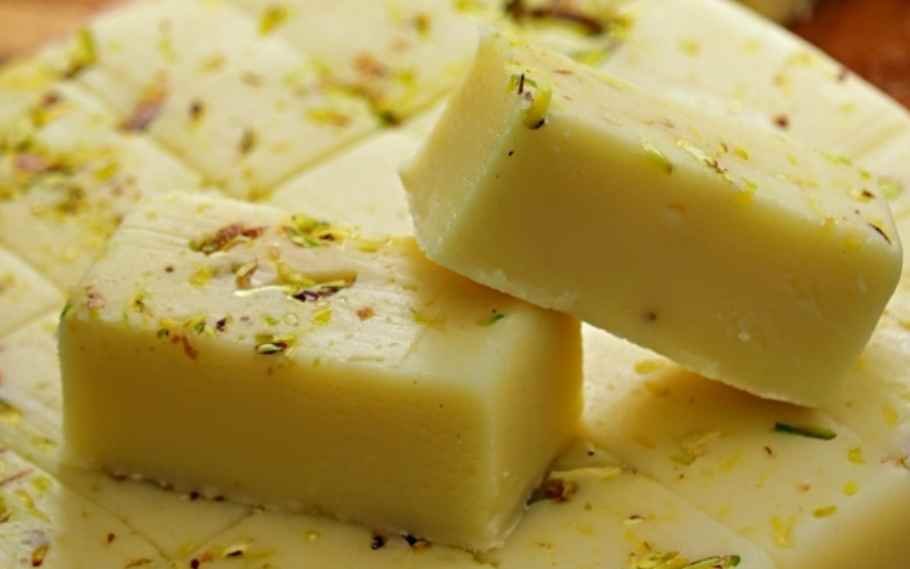 Easy Barfi Recipe; Ingredients
300 ml condensed milk
2 1/2 cup milk powder
2 tablespoon ghee
1 cup water
1 teaspoon powdered green cardamom
1 handful pistachios
For Garnishing
Directions; Easy Barfi Recipe
Step 1 Make the milk powder dough
First, take a big bowl and add some milk powder to it along with milk. Make a rigid dough using these ingredients. Once done, keep the dough in the freezer and freeze it for at least for 20 minutes.
Step 2 Grate the dough & heat some ghee
Now take the barfi dough and grate it in a bowl. Keep this grated dough aside for further usage. Take a deep bottomed pan, keep it on low flame and heat ghee in it.
Step 3 Cook the grated dough with cardamom
Add the grated dough to this pan with water. Mix well and stir in cardamom powder in the pan. Cook this mixture until the water dries out and the mixture accumulates in the centre of the pan.
Step 4 Garnish with silver varq & almonds before serving the easy barfi
Pour this prepared mixture into a greased tray and garnish it with almonds and pistachios. Let the mixture cool down and cut the barfi into desired shapes. Garnish it with your choice of dry fruits.
Also Read: Easy Jalebi recipe at home! Try it out now