Overview of the air quality situation in Guwahati

The increasing air pollution in Guwahati has been a growing concern for the citizens, especially parents who worry about the health of their children. The Central Pollution Control Board's recent classification of the air quality in Guwahati as "unhealthy" has brought the issue to the forefront of public discussion. The air quality in the city has been deteriorating due to high levels of particulate matter, mainly PM2.5 and PM10, that are emitted from vehicular traffic, industrial activities, and construction sites.
Data on the number of hospitalizations due to respiratory problems caused by air pollution
The deteriorating air quality is having a severe impact on the health of children in Guwahati. The toxic air is causing various respiratory problems among children, leading to hospitalization. According to the latest data, around 23 children are undergoing treatment at GMCH due to breathing problems caused by the deteriorating air quality. The number of hospitalizations has increased significantly in the last few days. On 20th February 2023, 36 children were admitted to GMCH, and on 21st February 2023, eight more were admitted. This sudden increase in the number of hospitalizations due to air pollution is a cause for concern.
It is crucial to note that the harmful effects of air pollution on children's health can be long-lasting and may even lead to permanent damage. Children exposed to high levels of air pollution are more vulnerable to respiratory infections, asthma, and other chronic diseases. Studies have also shown that exposure to air pollution can have adverse effects on cognitive development, leading to reduced academic performance and behavioral problems.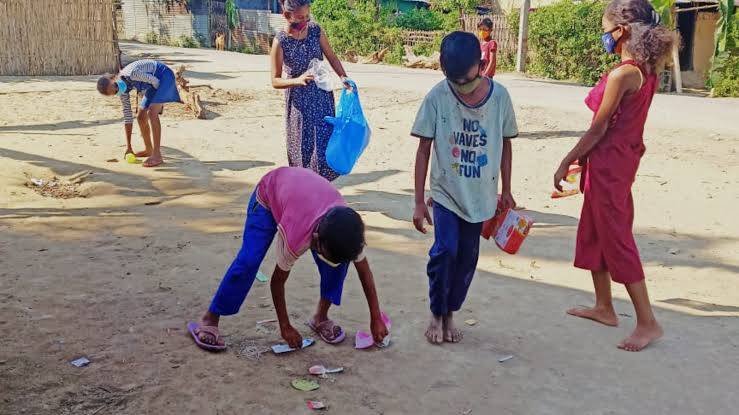 Discussion of the need for immediate action to address the problem of air pollution in Guwahati
To address the problem of air pollution in Guwahati, the government, citizens, and other stakeholders need to take immediate action. One of the most effective ways to reduce air pollution is to promote the use of public transport. Encouraging people to use buses, trains, and other forms of public transport can help reduce vehicular traffic on the roads, which is a major contributor to air pollution. The government should also implement stricter emission norms for vehicles to reduce the amount of harmful pollutants released into the air.
Regulating industrial activities is another way to reduce air pollution in Guwahati. The government should ensure that industries comply with environmental regulations and invest in cleaner technologies to reduce their emissions. The public can also contribute to reducing air pollution by adopting eco-friendly practices, such as using bicycles, carpooling, and reducing the use of plastic.
It is crucial to ensure that children are protected from the harmful effects of air pollution. Schools should take measures to reduce indoor air pollution by improving ventilation and ensuring that air filters are regularly maintained. Parents should also take steps to protect their children's health by monitoring the air quality in their neighborhood and taking precautions such as wearing masks when necessary.
Call to action for safe environment
In conclusion, the declining air quality in Guwahati is a major concern and requires immediate action from the government, citizens, and other stakeholders. The health of children in the city is at risk due to the toxic air, and steps should be taken to protect them from the harmful effects of air pollution. It is essential to implement measures that reduce air pollution levels in the city, such as promoting the use of public transport, implementing stricter emission norms, and regulating industrial activities. The government, citizens, and other stakeholders should work together to create a healthy and safe environment for children in Guwahati.
HERA PHERI 3 BEGINS FILMING: LONG-AWAITED THIRD INSTALLMENT OF BELOVED INDIAN COMEDY FRANCHISE