Budget-friendly hotels in Shillong; Meghalaya is a place that attracts tourists from all over India, for its suitable climate and astonishing scenery that would drive anyone crazy. In this scorching heat of August for enjoying the last few days of your vacation, Shillong is a must-visit place.
5 budget-friendly hotels in Shillong
The Habitat Shillong
One of the best budget-friendly hotels in Shillong is The Habitat. Located in Veronica Lane, Laitumukrah, near the Café Shillong is an amazing and budget-friendly place to stay. Though it looks nondescript in its exteriors and the property is comparatively small, what it provides inside is pretty nice. With the wooden floor and the collection of Handicrafts, you will get the charm of the place in its antiquity. For further information contact: 03642222892 for a budget-friendly hotels in Shillong.
Blueberry Inn
Another budget-friendly hotels in Shillong is Located on Rita Road near the Pinewood Hotel has a very distinctively cute vibe about the ambience and the look. As it is located near the wards lake there is always a good variety of cabs available in that area. With decent amenities and huge rooms, the room service is quite quick and very helpful. Most of the rooms have electronic safes and LCD TV with TV sky connection. Apart from the regular restaurant area, there is an open space from where you can buy drinks and food.
For further information contact: 3642500655
The Pear Tree
The Pear Tree is a small homely property located very close to the wards lake (1 km). The Pear Tree is more like a home stay with wonderful and clean rooms. All the support staff are very friendly and willing to help at all times. The owner Mr Bora is a talented person and is personally available in the morning to take care of any needs – from recommending the food to discussing places to visit.
Every small request from checking out late, to cooking instant noodles for kids at odd hours is taken care of without a fuss. The entrance of The Pear Tree has lovely flowers and the pear tree (see the picture attached) welcomes you. Overall The Pear Tree is highly recommended.
Earle Holiday Home
The best budget-friendly hotels in Shillong is the Earle Holiday Home. It's a walkable distance from the Police Bazar. It is good for a peaceful stay away from the crowd of the Police Bazar. The rooms were pretty good with an attached bathroom. The beds were cosy too. If you visit there during the winters, you can ask them for room heaters for a mere amount of Rs.50. Rooms on the different floors are much better than the room on the ground floor.
Located within walking distance of the police bazaar and the taxi stand. ATMs nearby. A very good family restaurant City hut Dhaba is located just next to it and they deliver food to the hotel. Rooms start from Rs. 800 per night (room only) and are very decent for the price and location. The hotel staff are simple and helpful. The restaurant provides you with excellent food.
Quinton Enclave
Another budget-friendly hotels in Shillong is Offering rooms with free internet access and free breakfast, Quinton Enclave is a budget accommodation in Shillong. This property is located at a distance of 0.5 km from the Meghalaya Transport Corporation Bus Stand and 2 km from Phan Nonglait Park. This hotel in Shillong houses a total of 2 rooms. Each room is equipped with amenities like a television, work desk, wardrobe and attached bathroom with a constant supply of hot and cold water. Additional services provided at the property are laundry, room service and medical assistance.
This hotel in Shillong also has facilities like luggage storage space, a travel counter and a front desk. Hotel Ganges Park also has a power backup facility. This property is located 96 km from Guwahati Railway Station and 30 km from Shillong Airport. Places of interest include Ward's Lake (1 km) and Shillong Golf Course (5 km).
4-5 days is good enough for Shillong and Cherrapunji as Cherrapunji is 2 hours drive from Shillong and you can easily do a day trip and have an amazing time at these budget-friendly hotels in Shillong. Just bear in mind to keep a day off to rest after the doubledecker root bridge trip as it would completely exhaust you. So hope you enjoy your stay in Shillong. Happy vacations.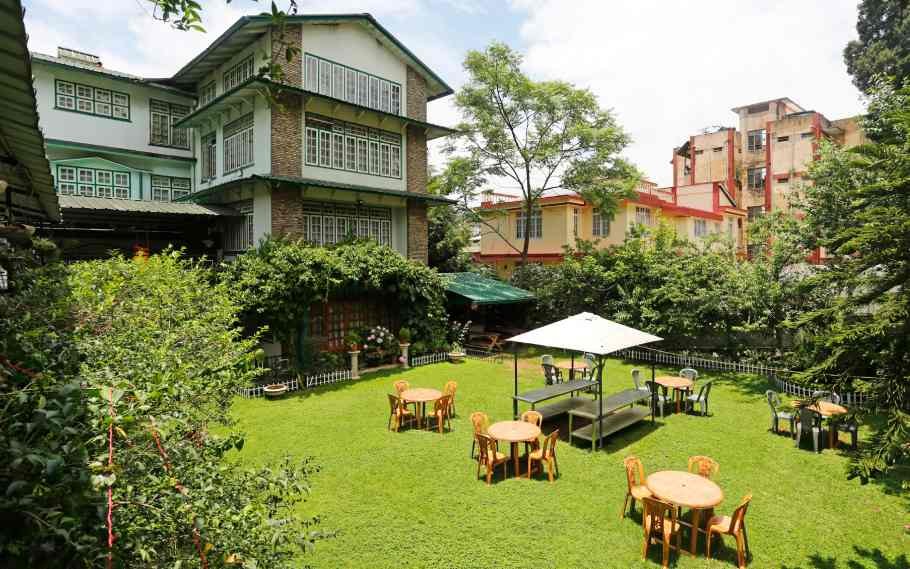 Also Read : 10 best restaurants in Guwahati; Check it out