Assam government announces Pragyan Bharati Scheme to promote education

Assam's Finance Minister, Ajanta Neog, has announced a new scheme that will provide free bicycles to all Class-IX students studying in Government and Provincialized Secondary Schools. The announcement was made on March 16 as part of the Pragyan Bharati scheme, which aims to promote education and provide better facilities to students.
In addition to free bicycles, the scheme includes providing free textbooks and textbook assistance to students up to graduation. For students pursuing higher education, the scheme offers a hostel mess dues waiver of up to Rs 2000 per month for undergraduate and postgraduate courses in degree and polytechnic colleges. The scheme also incentivizes meritorious students by offering scooty to all boys and girls who secure first division in higher secondary examinations. Post-graduate students, excluding medical students, can avail themselves of a mobility grant of Rs 10,000 per year.
The scheme also includes measures to support students from economically weaker sections by providing admission fee waivers to all BPL (Below Poverty Line) students, Anundoram Barooah Award to eligible students passing HSLC, and scholarships to students belonging to SC (Scheduled Castes), ST (Scheduled Tribes), minority, and tea-garden communities.
As a further step towards incentivizing students, the Finance Minister of Assam, Ajanta Neog, announced on March 16 that students who secure the first rank in Class 9 examinations will be provided with tablets. These tablets will be connected to a central agency that provides educational material and mentorship to the students, with the aim of encouraging and rewarding students who excel in their academic pursuits.
The announcement of providing tablets and bicycles to students was made during the budget speech on March 16, alongside the news that the Assam government will also provide free bicycles to all Class 9 students in government and provincialized schools under the Pragyan Bharati Scheme.
Assam government presents deficit budget for 2023-24 financial year
The Assam government has presented a Rs 935.23 crore deficit budget for the 2023-24 financial year, with funds allocated to promoting micro-entrepreneurship and fresh recruitments in different departments. During the budget presentation in the assembly, Finance Minister Ajanta Neog said that the government will invest Rs 5,000 crore to "transform" over 2 lakh unemployed youths into job creators.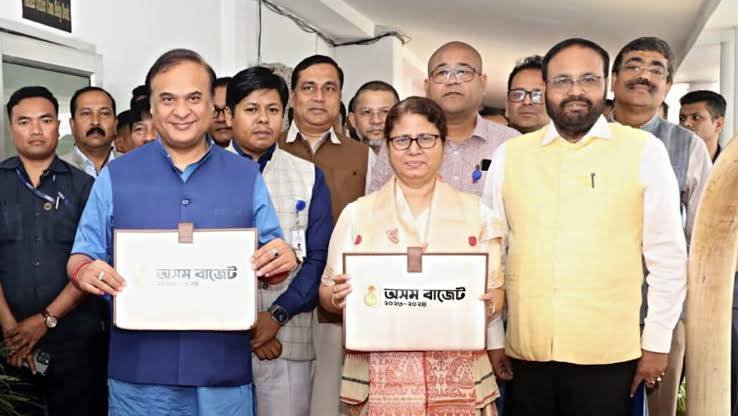 After adding the receipt of Rs 1,80,298.83 crore under the public account and Rs 2,000 crore under contingency fund, the aggregate receipts amount to Rs 3,21,742.71 crore. "Taking into account the expenditure of Rs 1,79,326.48 crore under the public account and Rs 2,000 crore under contingency fund, the aggregate expenditure for the year is estimated at Rs 3,21,081.75 crore," said Neog in her budget speech. The estimated transactions during the year will result in an estimated surplus of Rs 660.96 crore, Neog added.
The budget also includes various schemes for the welfare of farmers, with Neog stating that the government has set a target of providing at least one lakh tractors to farmers in the next five years. In addition, the government has allocated Rs 1,100 crore for irrigation projects, Rs 1,000 crore for horticulture development, and Rs 200 crore for the promotion of apiculture (beekeeping).
Overall, the Assam government's budget for the 2023-24 financial year aims to promote education, entrepreneurship, and welfare schemes for farmers and economically weaker sections of society. The provision of free bicycles and tablets to students is a significant step towards achieving the government's goal of ensuring that every child in the state has access to quality education and equal opportunities for success.
THE ASSAM BOOK FAIR IS SET TO RUN FOR SIX DAYS, ENDING ON MARCH 19TH, CELEBRATION OF LITERATURE, CULTURE, AND ECONOMIC DEVELOPMENT