The Assam Cabinet Meeting that was held on July 5th 2022, approved the identification of a total of five Assamese Muslim sub-groups. They have been identified as indigenous Assamese Muslim Communities.
As per the tweet by Assam Chief Minister, the sub groups have been identified as Gorias, Moriyas, Jolhas, Deshis, and Syeds. The above-mentioned decision was taken in the cabinet meeting held on Tuesday, 5th July 2022.
The Chief Minister in his social media handle wrote, "At our weekly Assam Cabinet, we took several decisions pertaining to the scrapping of old vehicles, identification of five indigenous Muslim groups, exempting ex-servicemen and their widows from paying paying property tax, boosting renewable energy and improving data access." He further mentioned that the decisions were taken in mind as it would be benefitting the health, identity, education and over all development of the people in Assam.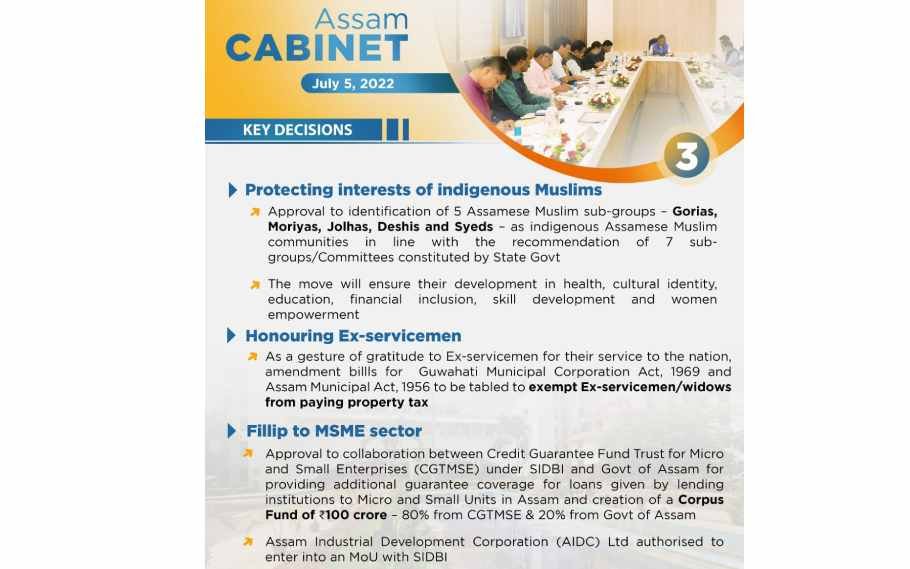 Assam Cabinet Meeting Key Decisions
The Assam Cabinet Meeting further decided on exempting ex-servicemen and their widows with property tax payment. This initiative has been taken as a gesture of gratitude for the efficient service to the country.
In addition, the government also approved the collaboration of Credit Guarantee Fund Trust for Micro and Small Enterprises under SIDBI and Assam Government. This will enable small units of Assam to take loans with 80 per cent from CHTMSE and 20 per cent from Assam Government.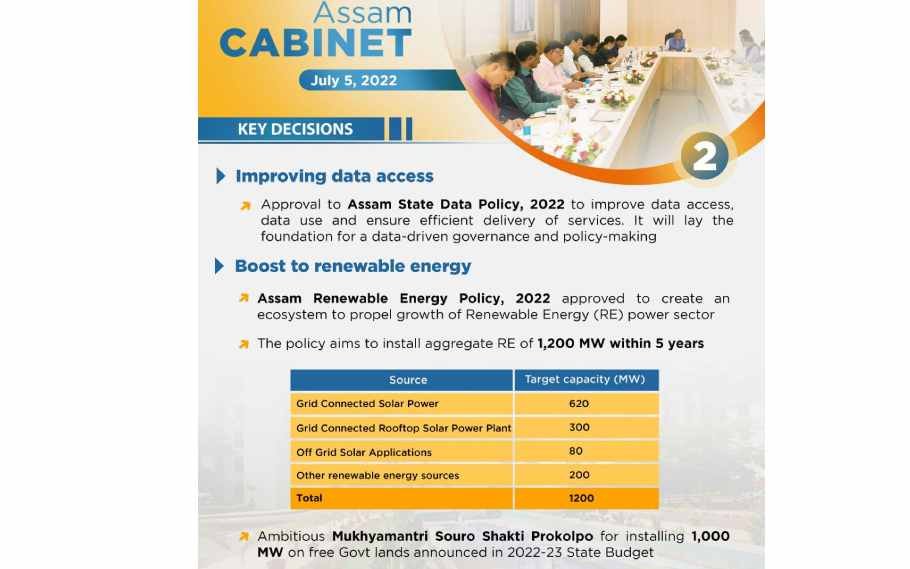 The government also authorised the AIDC Ltd to enter into a MoU with SIDBI so that it can create a venture of Rs 200 crore capital fund.
Moreover, a sum of Rs 16,000 will also be provided to the students of class 10 merit holders who secured 1st division.
The state will also accelerate the growth of renewable energy by installing an 1200 MW within a span of five years.
Lastly, the Assam Cabinet Meeting also took an initiative to bid the unfit and polluting vehicles from the road.