Tackling the issue of air pollution: Capacity Building Program organized at Cotton University

Hon'ble MP Gaurav Gogoi, politician and worker of Indian National Congress also known for his commitment to environmental causes, recently spearheaded a significant initiative aimed at addressing the critical issue of air pollution. In collaboration with the Parliamentarians Group for Clean Air and the Centre for Clouds and Climate Change Research, his office organized a Capacity Building Program on Air Pollution Reporting at Cotton University in Guwahati, Assam.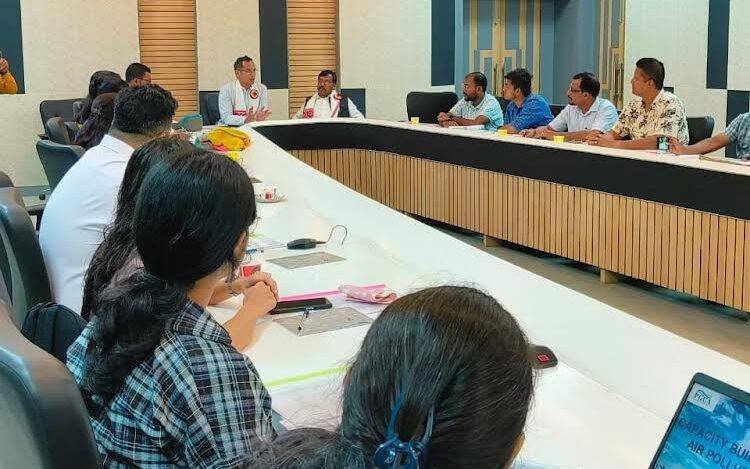 Expert insights on the science and impacts of air pollution
The program brought together a diverse panel of experts who shared their profound knowledge and insights on the science of air pollution, including its sources, impacts, and the importance of evidence-based reporting. Mr. Abhijit Chatterjee, an esteemed Associate Professor at the Department of Chemical Sciences, Bose Institute, shed lighti on the scientific foundations of air pollution. Dr. Palak Balyan, a highly regarded Post-doctoral fellow at the Center for Atmospheric Sciences, IIT-Delhi, provided valuable inputs on the sources and impacts of pollution. Ms. Vinamrata Borwankar, a seasoned Communications Consultant at Climate Trends, emphasized the significance of accurate reporting and effective communication strategies.
Charter of Demands released by Congress worker Shri Gaurav Gogoi for combating air pollution at Cotton University
The program at Cotton University also served as a platform for Congress worker Shri Gaurav Gogoi, the convener of the Parliamentarians Group for Clean Air, to unveil a Charter of Demands focused on combatting air pollution in Assam. The charter outlined specific steps to enhance capacity building and ensure the availability of necessary resources for all stakeholders involved in the fight against air pollution. Shri Gaurav Gogoi expressed his firm commitment to engaging in dialogues with key players in the construction and industrial sectors, with the collective aim of addressing the issue and finding effective solutions.
Fostering collective efforts: Coordinated approach to create a healthier environment
During his address, INC member Shri Gaurav Gogoi stressed the significance of collective efforts in tackling the complex and multi-sectoral problem of air pollution. He emphasized that by bringing together experts, stakeholders, and policymakers, the program aimed to foster a coordinated approach to combatting air pollution and create a healthier environment for the people of Assam. Recognizing the need for a comprehensive strategy, Shri Gogoi highlighted the importance of working together to achieve a more significant impact.
Cotton University, a prestigious public state university located in Guwahati, provided an ideal venue for the Capacity Building Program. Formerly known as Cotton College, the institution has a rich history dating back to its establishment in 1901 by Sir Henry Stedman Cotton, the Chief Commissioner of the erstwhile British province of Assam. The university, formed through the merger of Cotton College State University and Cotton College in 2017, has steadily ascended to become one of the top 200 institutions in India. Its inclusion in the National Institutional Ranking Framework rank list further underscores its commitment to academic excellence.
Capacity Building Program at Cotton University addressed air pollution, featuring expert insights. Gaurav Gogoi released Charter of Demands. Emphasized collective efforts and stakeholder engagement in combatting pollution. The Capacity Building Program on Air Pollution Reporting at Cotton University represents a significant step forward in addressing the pressing issue of air pollution in Assam.

By equipping participants with knowledge and skills, and by fostering collaboration and advocacy, it is hoped that concrete actions will be taken to combat air pollution and create a cleaner and healthier environment for the people of Assam. Congress worker Shri Gaurav Gogoi's efforts, along with the support of experts and stakeholders, demonstrate a shared commitment to safeguarding the well-being of the community and tackling the challenges posed by air pollution.
ASSAM GOVERNMENT PROHIBITS ALCOHOL IN ENGINEERING COLLEGE HOSTELS ACROSS THE STATE; A MOVE TOWARDS ENSURING STUDENT SAFETY