The Congress party in Karnataka is currently facing a complex situation as they try to select a new Chief Minister for the state. Amidst this turmoil, the Sunni Ulema Board's Muslim leaders have added to the complexity by demanding that the Congress party appoint a Muslim Deputy Chief Minister in Karnataka and include five Muslim MLAs in the cabinet with strong portfolios.
Shafi Saadi demands Muslim leaders in Karnataka as a payback
Waqf Board Chairman Shafi Saadi, speaking on behalf of the Muslim community, expressed that "Only because of Muslims did the Congress win in 72 assemblies. We have given the Congress a lot as a community. The time has arrived for us to receive something in exchange. We want five ministers with solid responsibilities like home, revenue, and health, as well as a Muslim deputy chief minister. The Congress must give us this as a token of appreciation." Saadi further emphasized that they had made these demands before the elections and that they should be fulfilled now.
The demand has sparked controversy, with some accusing Waqf Board Chairman Shafi Saadi of being backed by the Bharatiya Janata Party (BJP). Amit Malviya, the national convener of the IT cell of the BJP, said, "Secularism of the Congress kinds comes with a price. Looks like the Congress has gone overboard with its commitments, thinking they will never win, but unfortunately for them, their plans have gone awry."
Despite the controversy, the Congress party has not yet been able to select a new Chief Minister for the state. Congress President Mallikarjun Kharge has been granted the authority to decide by the MLAs during the Congress Legislature Party meeting held on Sunday. The contest for the position of Chief Minister is currently between Siddaramaiah and Karnataka State Congress President DK Shivakumar.
Shafi Saadi clarified that it was up to the Congress party to decide who among the successful Muslim candidates should be awarded the position of Deputy Chief Minister. He further added that the Congress party should determine who has done good work and who makes a strong candidate.
This demand by the Sunni Ulema Board's Muslim leaders raises controversy about minority representation in politics and governance. While it is important to ensure that all communities are represented and given a voice, it is equally important to ensure that such representation is based on merit and not just based on tokenism.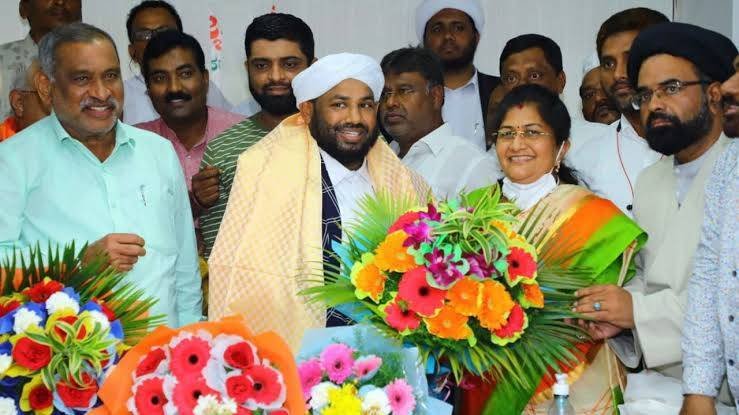 In reply to Shafi Saadi, national convener of the IT cell of the Bharatiya Janata Party, Amit Malviya tweeted, "Karnataka Deputy Chief Minister should be a Muslim: Waqf board chief Shafi Saadi…
"…that 30 seats be given to us (to contest)… We got 15, and 9 Muslim candidates have won. In about 72 constituencies, the Congress won purely because of the Muslims. We, as a community, have given a lot to the Congress. Now it's time we get something in return. We want a Muslim Deputy Chief Minister and five ministers with good portfolios like Home, Revenue and Education. It's the responsibility of the Congress to thank us with this…"
Secularism of the Congress kinds comes with a price. Looks like the Congress has gone overboard with its commitments, thinking they will never win, but unfortunately for them, their plans have gone awry."
Karnataka Deputy Chief Minister should be a Muslim: Waqf board chief Shafi Sadi…

"…that 30 seats be given to us (to contest)… We got 15, and 9 Muslim candidates have won. In about 72 constituencies, the Congress won purely because of the Muslims. We, as a community, have… pic.twitter.com/f717DthdAQ

— Amit Malviya (@amitmalviya) May 15, 2023
Moreover, National President of IYC, Srinivas BV tweeted, "Malware, 'BJP-backed' Shafi Saadi के 'शब्द' तुम्हारे है, और 'संस्कार' भाजपा के है। It is time for the ₹2 coolies of the BJP to introspect as to why the BJP has been completely wiped out of South India."
PARUL UNIVERSITY'S STUDENTS SHOWCASE STUNNING OUTFITS AT VADODARA FASHION WEEK; GRACED BY CELEBRITY SHOWSTOPPERS