The heading of this article might have caught your eye 'God Particle.' Now I promise you it has nothing to do with "God." Rather today, I'm going to introduce you to an "Invisible" field of Higgs which gives masses to everything in this Universe without which nothing will exist. Also, we will discuss a tad about Higgs Bosons as well.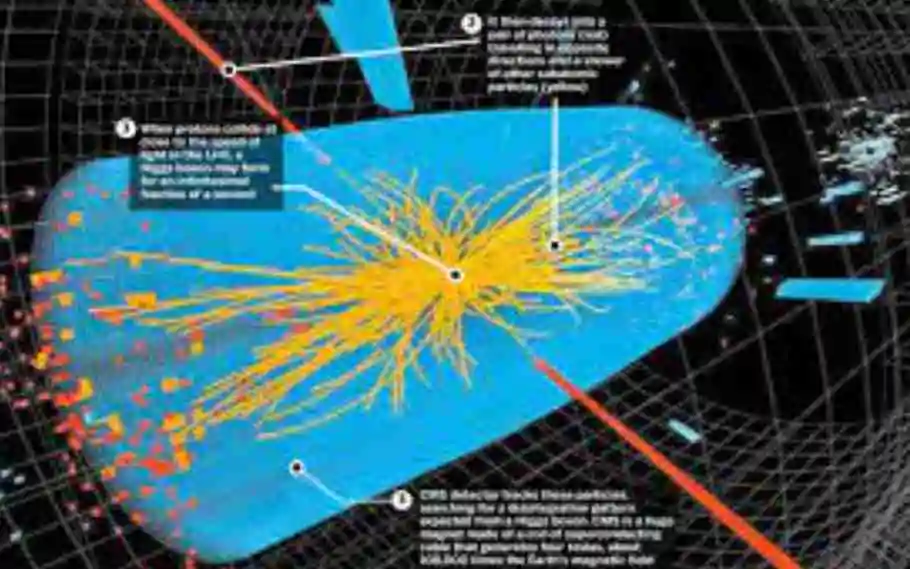 The Higgs boson was proposed in 1964 by Peter Higgs, François Englert, and four other theorists to explain why certain particles have mass. Scientists confirmed its existence in 2012 through the ATLAS and CMS experiments at the Large Hadron Collider (LHC) at CERN in Switzerland. This discovery led to the 2013 Nobel Prize in Physics being awarded to Higgs and Englert.
Higgs Boson's Invisible Field
Well, let's talk about this "Invisible" field in a little more detail. So, scientists believe that this Higgs field is all around us. Everywhere in the Universe. And what it does is rather special- as it gives mass to the elementary particle. What's an elementary particle, you say? An elementary particle is what we call a particle that has no structure, that can't be divided. They are the basic building block of the universe.
And yes, the question of atoms being the basic building block might be lingering in your mind. Well, atoms are actually made of smaller components, protons, neutrons, and electrons. Electrons are fundamental particles neutrons and protons are not. Neutrons and protons are made up of other fundamental particles called Quarks. I know, I know, it sounds like Russian dolls. And does it ever end? The short answer is we don't know. But our current understanding is called the Standard Model.
Standard Model
In it, there are two types of fundamental particles, the Fermions that makeup matter, and the Bosons that carry forces. Scientists often order these particles according to their properties, such as mass. We can measure the masses of these particles, but here are the thing scientists never knew where these masses came from or why they have the masses they do.
So, more questions might have pooped in your mind like, how does this Higgs field thing explain mass? Well, when a particle passes through the Higgs field, it interacts and gets mass. The more it interacts, the more mass it has.

Now let's ponder on the question of what if there were no Higgs field? As said in the introduction the world wouldn't exist at all. There would be no stars, no planets, no air, no anything, sounds grim right?
Higgs Boson
To understand Higgs Boson, let's take an analogy of a milkshake and a cherry on top of it. The cherry in the milkshake is a particle moving through the Higgs field in the shake. The shake gives the cherry its mass. It takes an excitation of the Higgs field to produce the Higgs Boson. So, for example, if you were to add energy.
By say, dropping the cherry in the shake, the splash itself is the Higgs boson. I understand it might be confusing, well, that's what Quantum Mechanics does. Quantum Mechanics teaches us that particles are excitation of fields. I know it sounds strange but very cool, right? The Higgs Boson is an excitation of the Higgs field. By finding the Higgs Boson, we know that the Higgs field exists.
Way Forward
So, you might be wondering now that since scientists found the Higgs Boson and the Higgs field, the research area of particle physics is done. Like, is there anything left to do? Well, you might be surprised by my answer that scientists have just begun! To put it into perspective, it's like
Columbus thought. You know when he thought he found a new route to India. He'd indeed, found something new, but not quite what he was expecting. Likewise, first scientist in LHC needs to make sure that the Boson scientist found in LHC is Higgs Boson. It seems to fit, but scientists need to measure its properties to be sure. Scientists in LHC will crunch more data and study them.
Since the new Boson lives for only a very short time before it breaks down or decays into lighter, more stable particles. By measuring these particles, scientists learn about the properties of the boson. The Standard Model predicts how often and in what way the Higgs Bosons would decay to the various lighter particles. So, scientists want to see if the particle they have found is the one predicted by the Standard Model or if it fits into other theoretical models.

Now imagine if it fits, into other possible theoretical models, how exciting it would be in the area of this research. In fact, that's how science advances. We replace old models with new ones. If they better explain scientists' observations. So, the journey of finding Higgs Boson gives a direction of exploration. I guess this is just the beginning of finding the oblivion of unknowns. 
Also Read: Nirjala Vrat- Karwa Chauth 2022