Borthakur's IAS Academy: Empowering Aspirants for Civil Service Success in Northeast India
Borthakur's IAS Academy is a renowned coaching institute that empowers aspirants in Northeast India to achieve success in civil service examinations. In recent years, the number of candidates applying for the UPSC examination has been on the rise, with fierce competition for a limited number of vacancies. In this challenging landscape, aspiring civil servants require systematic guidance to navigate the complexities of the examination process successfully.
Recognizing the need for quality coaching institutes in Assam, a visionary entrepreneur, Bandana Borthakur, established her dream venture – Borthakur's IAS Academy – in 2014. The concept of civil service examination coaching was relatively new in Assam at the time, leading to initial hurdles and challenges. However, with humble beginnings and just seven students at her own residence, Bandana Borthakur laid the foundation for what would soon become the leading Civil Service Coaching institute in Northeast India within a decade.
Achieving Remarkable Results: The Outstanding Achievements of Borthakur's IAS Academy
One of the remarkable achievements of Borthakur's IAS Academy is the outstanding results in the Year 2020-22. The academy witnessed the success of numerous aspirants who secured prestigious positions in various government departments and services. The results included 39 ACS officers, 28 APS officers, 8 BDOs, 7 Sub-Registrars, 7 Inspectors of Taxes, 4 Superintendents of Taxes, 3 Labour Inspectors, 3 Inspectors of Excise, 3 District Transport Officers, 2 Assistant Employment Officers, and 2 Assistant Managers of Industries.
The success of Borthakur's IAS Academy can be attributed to several factors that set it apart from its peers. First and foremost, the academy boasts a strong team of highly qualified and experienced faculties who specialize in their respective subjects. Many of these faculties have themselves appeared for the UPSC and state PSC exams. Additionally, the academy collaborates with IAS and ALRS rank holders who play a crucial role in mentoring aspirants and conducting mock tests, ensuring a comprehensive and effective learning experience.
The study materials provided by Borthakur's IAS Academy are meticulously crafted by subject specialists and individuals with extensive exam backgrounds. This approach ensures that the study materials remain updated and highly useful for the aspirants. Furthermore, the academy has expanded its reach across Assam and the Northeast region, with 15 active classrooms spread across Guwahati, Jorhat, Dibrugarh, Dimapur, and Ahmedabad.
In keeping with the evolving digital landscape, Borthakur's IAS Academy offers a seamless online coaching platform through the BIAS app. This online coaching facility provides live classes, regular mock tests, access to PDF notes, recorded classroom sessions, a systematic class schedule, late evening classes for working professionals, mock interview sessions conducted by IAS, ACS, and other rank holders, and daily current affairs updates through social media channels. This comprehensive online coaching approach ensures that aspirants can access quality education and guidance conveniently and efficiently.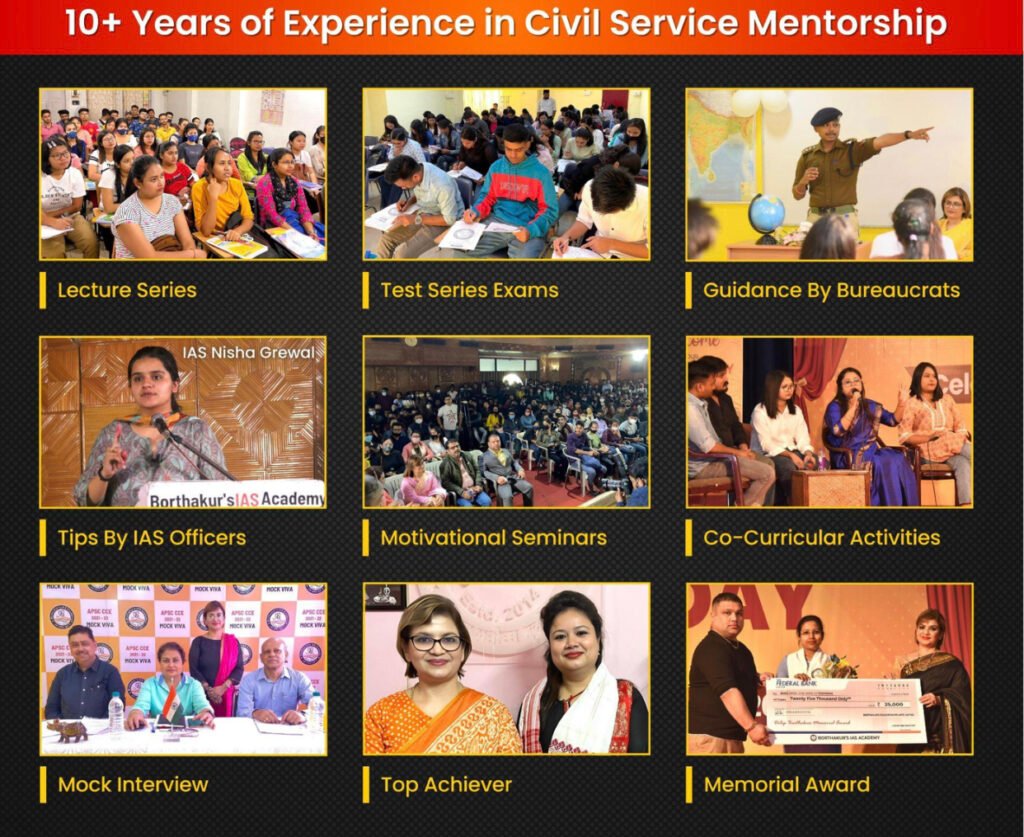 With a track record of 550+ selections in less than a decade, Borthakur's IAS Academy has earned a reputation for having India's finest faculties. The academy has witnessed 4,120 aspirants clearing the APSC CCE Prelims examinations for the year 2021-22 alone. Its consistent success in producing exceptional results year after year is a testament to the quality of coaching and guidance provided.
Setting the Standards: Key Factors that Differentiate Borthakur's IAS Academy
Apart from focusing on civil service examinations, Borthakur's IAS Academy offers courses designed to prepare students for various government exams. Understanding the arduous journey of civil services, the academy provides continuous motivation and support to its students through a dedicated team of counselors. These counselors play a pivotal role in helping aspirants maintain focus, dedication, and resilience throughout their preparation.
The collaboration of prominent personalities, such as Mr. G.M. Srivastava (Retired IPS), Mr. Dipak Goswami (Retired ACS), Avadh Ojha Sir (Prominent History faculty of India), Mr. Sailen Nath (IAS, Retired), and many more, further enriches the learning experience at Borthakur's IAS Academy. These intellectuals contribute to the overall development of students by providing valuable insights and guidance throughout their coaching journey.
In conclusion, Borthakur's IAS Academy has emerged as a transformative force, empowering aspirants to fulfill their dreams of becoming successful civil servants in Northeast India. With its exceptional faculties, meticulously crafted study materials, widespread presence, and innovative online coaching platform, the academy continues to shape the future of countless aspirants. Its consistent track record of producing remarkable results is a testament to its commitment to excellence and dedication to the success of its students. As the new face of Civil Service Coaching in the region, Borthakur's IAS Academy stands as a beacon of hope for aspirants pursuing their aspirations in the realm of public service.
TITANIC VISIT GOES WRONG: TOURIST SUBMERSIBLE GOES MISSING IN ATLANTIC OCEAN DURING TOUR TO 'TITANIC WRECK'; SEARCH UNDERWAY